Welcome! I'm glad you could stop by.
So the original and ultimate vision of this site is to provide a forum – a meeting place, if you will – for regular folks, people like me and you who love to eat, love to cook and just plain love food. I want this to be a site where people can share and exchange recipes, food reviews, food anecdotes, photos videos and photos. Sure there are plenty of sites that do this already but I thought the great thing would be to have recipes on the same page as short videos showing folks how to cook those recipes. And I don't think celebrity chefs and big smiley TV personality hosts who peddle donuts, crackers or EVOO are the only ones who can cook out there. There are so many great skilled and talented cooks and food obsessed folks out there from whom we might be able to learn a thing or two about food and how to cook it. That's what I want this site to be about.
Unfortunately my web programming skills are really limited (that's why this is in the form of a blog) and I don't yet know the vast pool of curious and talented cooks yet, so this site is starting off small and rather simple. So right now this site is mostly about me, my family and friends and what we like to do with food (we'll keep it clean – don't worry). Because of their accessibility, skills and general willingness to help me out, I'm relying on the contributions and talents of family and friends (good cooks and good sports, all) and for good or bad, myself (okay cook, but always available to shoot). I hope you enjoy the recipes, food tips, knowledge and contributions of our small group. But this is just the beginning. I want this group to expand. If you find this site at all interesting, entertaining, informative, or even mildly amusing, sign in and become a subscriber or a contributer. Submit a comment, a recipe, a video photos, a review, a story, whatever – so long as we can learn from you and the delicioustings family continues to grow.
Thank you and enjoy the site.
-C. Ting
About Me…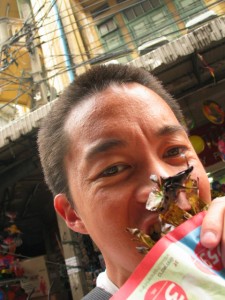 I like to eat. I like to cook. I like to share. Enough said.
Questions?  Suggestions? Comments?
Leave a comment below or contact me at
delicioustings@gmail.com