I guess it's become kind of a tradition. No, I'm not talking about the millenia old tradition of Chinese New Year. I'm just talking about the meal that me and my sister, Cheryl have been trying to cook each year to commemorate in our own ABC way, the Lunar New Year. We started doing it back in 2005 as an attempt to recreate some of the things our mom would make and that we love to eat most on this special occasion. Oh it's not like we're orphans or anything. Our parents just live in New Mexico (mmm green chiles) and aren't always able to be around for this specific meal. But when they are in town, my mom and dad throw down – believe it – preparing old school dishes that we can't even touch. My mom's jai? we can't even begin to duplicate it.
At that first meal back in 2005, Cheryl and I started with things we could do: fish, noodles, dumplings, turnip cakes (with a lot phone advising from the 'rents). And then we invited our friends who brought their own cooking skills and specialties so we could have a proper feast. Now three years later, this cooking/ eating extravaganza has become an annual gluttonous affair for friends and family even when it falls as it did this year about a week and a half after the actual Chinese New Year. Last year I was waylaid in New York during an ice storm so by the time I got to my sister's house, it was already ten or eleven at night. While my arrival sparked a second or third round of feeding by the stalwarts who were good enough to hang around so I would have company as I stuffed my face in a frenzy of dumplings, noodles, chicken, shrimp, etc., I missed out on the cooking.
This year, I vowed that this would not happen again. And because I'm a man who keeps his vows, it didn't. Actually I was just lucky that the weather cooperated and my flight back to the Bay Area was smooth and uneventful. I got back in plenty of time to cook and eat. Click on the picture below to see some of the photos from that night, courtesy of Chiara, a kick-ass cook and photographer and myself an adequate cook and average photographer.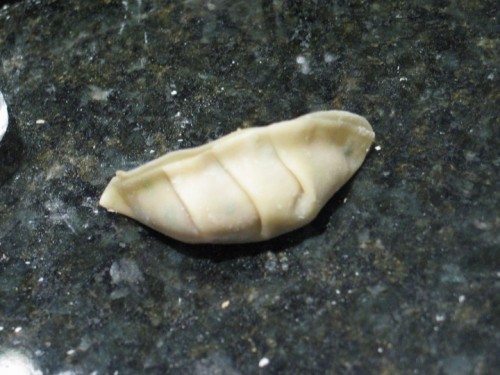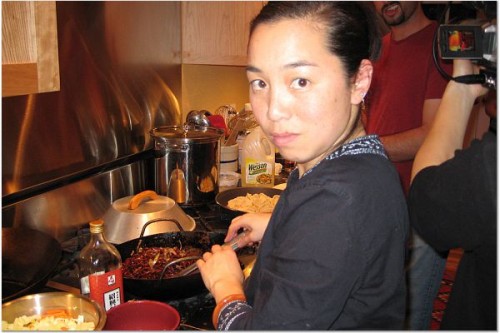 As you can see from the second photo, unfortunately for my family and friends, I arrived with the intention of not only cooking and eating but exploiting their talents for this website. Good sports that they are, they let me film them preparing various dishes. So what follows are a few videos of what we cooked that night. Bear in mind, I was trying to follow four different things at the same time through the course of the evening, as the party got louder and more crowded. Also I was stuffing my face and socializing throughout as well, so you'll definitely be able to see the change in quality of the videos from merely watchable at the start to almost incomprehensible towards the end of the of the videos. My apologies. Hopefully you'll still be able to get something out them. I had fun eating the final products if that's any consolation. They were all delicious.
Potstickers
Alright this first recipe is for pork dumplings. We like to fry our dumplings as in potstickers, but it's just as easy to boil them as well. My sister and her friends do a great job of showing how easy and delicious homemade dumplings can be. Here's a list of the ingredients. (Note: the amounts given for the ingredients are estimates. Dumpling making is all about improvisation. Watch the video and you'll understand.)
Potsticker Filling:
2 lbs of ground pork (get ground pork with enough fat to make it juicy and delicious)
1 1/2 cups of Chinese garlic chives
2 cups napa cabbage (blanched and drained – see video)
2 tbsp ginger
2 tbsp garlic
3 tbsp soy sauce
2 tbsp sesame oil
1/2 cup rice wine
1 tsp white pepper
1 1/2 tbsp sugar
1 1/2 tbsp corn starch
corn starch
2 packages of potsticker wrappers (you can make your own wrappers from flour and water – see green onion pancake video – but if you're lazy just buy these at an Asian market. Get the medium thickness. They hold up well when fried but are also thin enough to boil.)
And here's the vegetarian version of the potsticker filling. The ironic thing is Matt, the cook, is one of the best meat cookers I know. His slow cooked ribs? Ridiculous. Oh, back to the veggie dumplings, here's the recipe. (Again, amounts are estimates only.)
Vegetarian Potsticker Filling:
1 lb extra firm tofu (drained)
3/4 cup of green onions, chopped
1 cup o carrots, finely minced
3/4 cup of wood ear mushrooms, finey chopped
1/2 cup chives
1 tbsp garlic
1 tbsp soy sauce
1 tbsp rice wine
1 tsp sesame oil
1/2 tsp white pepper
Green Onion Pancakes
Here's Matt's version of green onion pancakes. I think we figured this method out years ago when we were doing a catering job. Here's the recipe:
For the dough (see video):
2 cups flour
1/2 to 3/4 cup hot water
Once the dough is done let it rest. Take a small ball of the dough (a little bit smaller than a racket ball or hand ball) and roll it out using a rolling pin (An Asian style rolling pin works best for this but any will do). Roll out the dough until it's a thin sheet and then proceed to adding the green onions.
2 cups of green onions
sesame oil diluted with vegetable oil
salt – to taste
white pepper
Chiara's Chinese New Year Fresh Strawberry Pie
Ok maybe this dessert doesn't have it's roots in Chinese tradition, but it's really red and really delicious, so it totally makes sense to eat if for Chinese New Year and have this recipe on this page. Also, Chiara along with being a fine cook is a phenomenal baker of pies, oh and cookies (her cookies? ok brief aside: Chiara once sent me some cookies from SF here to NYC and somehow they got waylaid at the post office for like a month. Then they showed up. Then I ate them. By that time, they were rock hard, but still delicious and I only lost one tooth.) Ok back to the pie. I'm drooling as I think about it. Here's the recipe.
For the dough:
1 1/2 cup of flour
2 tsp of sugar
pinch of salt
1/2 cup of cooking oil
2 tbsp of milk
For the filling:
2 lbs of fresh strawberries (see video for how to prepare)
1 1/2 cups sugar
2 tbsp (heaping) corn starch
Bonus Recipe: Steamed Whole Fish!
Ok, so this didn't actually take place on the night of the feast, but I thought I would add it because a whole fish is a traditional thing to eat on Chinese New Year. We bought and cooked so much food and other people brought so many other delectable dishes that we didn't have the wherewithal to cook the fish. So I took it upon myself, to cook that fish the next day for Cheryl and her family. My niece, Maia and I, pretty much devoured it in record time. Here are the ingredients for the fish. Again, amounts are estimates because as you'll see on the video, the idea is just use a lot and season to your personal taste.
Ingredients:
1 Fish (Golden Pompano)
1 cup ginger, jullienned
1 cup green onions, jullienned
2 tbsp vegetable oil, heated
1 tsp sesame oil
1-2 tbsp soy soy sauce