Awesome Meals at Home
The last few months of 2009 saw Shef and I, post wedding and armed with a whole slew of new cool kitchen gear (thank you wedding registry – oh yeah, and our kick ass friends).  So, to pay back many of those friends and also because we just enjoy cooking and taking advantage of our fully functional kitchen we hosted a number of food gatherings. Here, as shown in photos are a few of them.
1.  Autumn Mooncake Eating Party / Chance to Make and Eat Pork Tacos – First weekend in Ocotber
Shef works at an awesome school in the Lower East Side that's a dual language instruction school. So students have a normal curriculum in English (math, social studies, art, English) but also have language classes in Mandarin.  Most of her students are Chinese so to make a blanket statement,   many of her students' parents, adhering to the Chinese tradition of respecting their childrens' teacher,  often give her gifts.  That's where I, her Chinese-America/ non Chinese speaking husband, see the benefits.  This past Autumn Moon Festival was no exception.  Shef received gifts of multiple tins of moon cakes.  Now, I love moon cakes.  I've loved them for as long as I can remember.  But they're not the types of things that you you can just pound by yourself like Sees Candy or Almond Roca.  Made of beans sugar and basically shortening or lard, they're a little to rich and so I had the bright idea of having an autumn moon cake eating party to share the wealth – or my wife's hard earned wealth.  Of course we needed to have more than just moon cakes to eat so I thought what would be a natural pairing?  Why carnitas tacos, of course!  Et voilá, our first annual carnitas taco/ autumn moon cake party!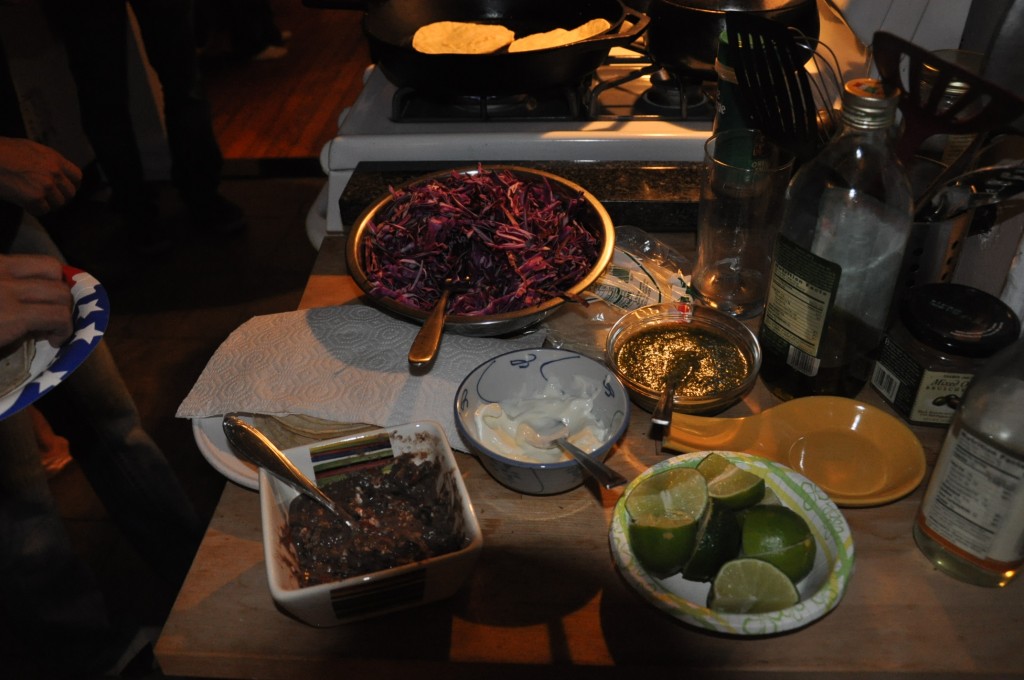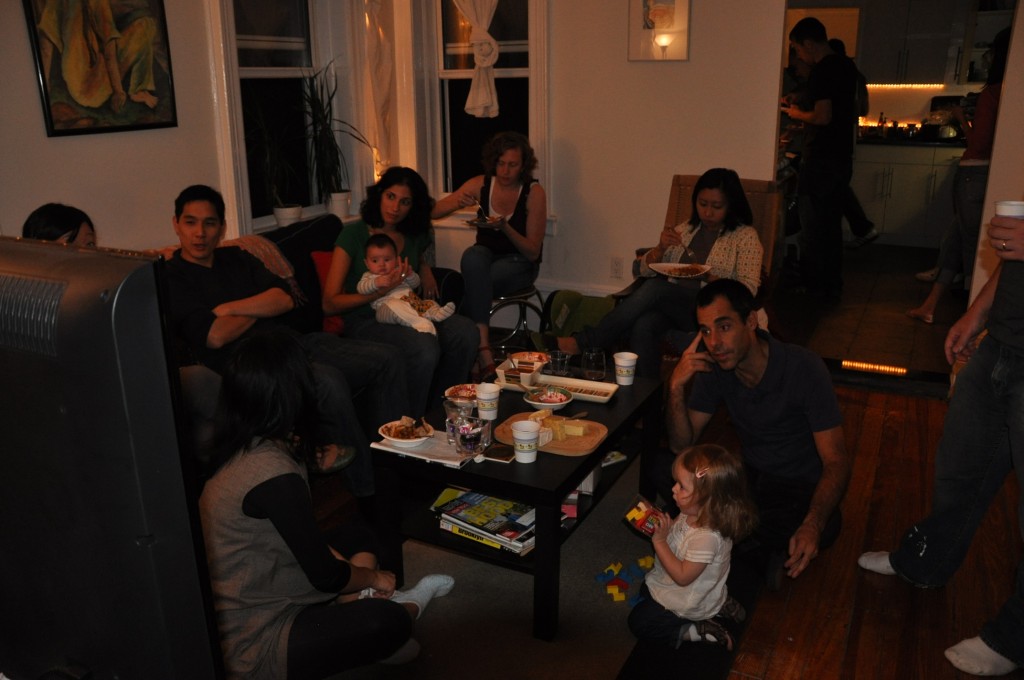 2.  Diwali Dinner with Sangeeta Auntie – mid October
For a week in mid October, Shefali and I played host to, Sangeeta Auntie, Shefali's family friend who was visiting the States from Delhi. Her visit coincided with Diwali the Hindu festival of lights and when we mentioned that we wanted to cook a Diwali dinner and have a few friends over she was gracious enough to basically take over and cook the whole meal.  Shef was her able sous chef while I went over to my friend Sonny's house to watch football on his 52 inch Sony Bravia HDTV and eat hot wings.  But when I got home? Forget it.  It was the best Diwali dinner I've ever had.  Sangeeta Aunty said she doesn't really have to cook for herself in Delhi much but she learned from watching various cooks.  She is a good learner.  She made a number of dishes in the Brahmin tradition.  Now I'm going to admit that I'm a total ignoramous when it comes to the various food traditions of the different castes of Indian.  I'm thinking that Brahmin food tradition pays close attention to where different ingredients come from and how to combine them in a way to maximize physical and spiritual well being, but I'm not really sure. What I do know is this: Brahmin food as cooked by Sangeeta Auntie is delicious without even using garlic!
3.  Anna, Chris and Hayden come to Brooklyn! – Early December
In early December our good friend Anna (aka Wonder) an amazing artist had an opening at the Sarah Meltzer Gallery in Chelsea.  Fortunately for us, we got to host Anna, her husband Chris (aka White Chocolate) and their adorable daughter Hayden  who had made the long drive from Peterborough, New Hampshire for dinner along with their friends (and now our friends too – it's called face to face social networking, yo!) Helena and Dara (aka the bests hosts of the best Hanukkah party I've ever been to)  and our good friend PK, visiting from Oakland (Bay Area!)  Shef and I decided to cook a nice Indian home meal.  Sorry, no Brahmin cooking here. Just straight up improvisational Indian cooking on my part and family recipes on Shef's part.  I decided to go with a lamb vindaloo because it's become some sort of tradition to eat lamb with Anna and Chris and because I'd found some excellent stewing lamb chunks at a recently rediscovered treasure: Western Beef Market (definitely not Brahmin- run) located fairly close to our apartment.  Shef went with some old favorites: chana (chickpeas cooked in masala spices, onions and chili peppers and paneer (cubes of cheese) cooked in spinach.  It was an amazing meal shared with amazing people.