So this page is dedicated to reviews of food items that one can eat for less than ten dollars. That's no reflection on the quality of food. It's just a category. As far as I'm concerned, some of the best food I've ever had have cost less than five dollars even (tacos anyone?). And in some cases the inexpensive nature of certain foods make them even more appetizing because it means I can eat seconds and on a good day, thirds.
1. Pat's Philly Cheesesteaks.


Now I was fortunate to visit this historic establishment with my friend Todd, an avid consumer of meaty products while we were on a shoot in Philadelphia. The funny thing is that it's located kitty corner from it's main competitor a place called Gens which was way more glamorous but lacking in customers.
So, I was glad that were going to Pat's which while much more modest, at least had a steady stream of people getting their steaming sandwiches from the window.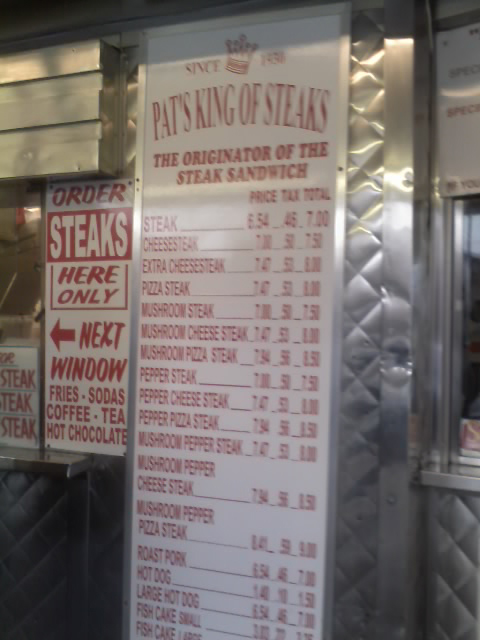 Looking at the menu I'll admit I was a little overwhelmed. But I quickly regained my composure and when I got to the window I ordered a whiz with mushrooms. For the uninitiated that means I got a traditional cheesesteak with cheese whiz and what were probably canned mushrooms. I'll get straight to the point. The verdict? Eh, it was ok. Not great, but good and fairly tasty. I had to put some red sort of hot sauce to raise the spice factor, but it was the addition of the pickled peppers which are part of the offered condiments that really added the needed spice. What really stood out for me was the bread. It was fresh, tasty, and possessed a nice crusty texture for soaking up all the juices. The meat? Well a little bland. In fact it tasted as if it had been sitting in a water bath for a while.
But all and all. I enjoyed it. It went down easily (the other side of that equation – well that's maybe an entry for a different blog). It was good but it didn't knock my socks off. To be fair, eating outside in 30 degree weather takes a bit of the enjoyment out chowing on a meaty, cheesy, drippy sandwich. Also I wasn't so hungry owing to the fact that I'd had some delicious tacos just a few hours before. That was in Camden, NJ where we stopped on our way to Philly. I got one taco de carnitas and other de carne enchilada. Now that shit was flavorful! Anyway, I feel like I need to to give the authentic Philly cheesesteak another shot on a summer night and an empty stomach. Until then, tacos will have to do. Mmm tacos. Too bad New York kind of sucks for tacos.