Alright, so me (CT) and my friend JG have a history of enjoying a good burger every now and again. We used to go to this place in Brooklyn called Bonnie's Grill a lot. It's close by to where we both live and they serve up a good burger as well as tasty buffalo wings. But this year we decided to branch out and explore the myriad burger options in NYC. New York is a fairly large city with what many consider to be a rather lively restaurant scene serving what could be categorized as burgers, so we adopted Time Out New York's 2008 Ten Best Burger list as our road map to burger enlightenment. That doesn't mean we won't venture off the beaten path and visit a place not on the list. There are plenty of quality burgers out there and though we are only two men, we're up to the task. So if you (all you millions of readers of this blog) have any recommendations, please send them our way.
We're judging the burgers on a scale of one to ten – one being the worst and ten being the best.
Without further ado, let's get to the burgers.
1.) The Back Forty Burger – # 4 on the TONY List.
Check out this brief but riveting documentary about our encounter with this burger:
Reflecting the more upscale bar/ bistro, the menu at the Back Forty had wider variety of entrees, salads and appetizer. But I don't remember what they were because I zeroed in on the burger. I got mine with chedder cheese and ordred it medium rare which is how I like my burgers. First of all I'm going to second Brian's opinion in the video: this burger was up there with one of the best burgers I've had in recent memory. The meat was clearly the star of the show. The patty was nicely seasoned with salt and pepper and when I bit into it, the juice just flowed. It was a thing of beauty.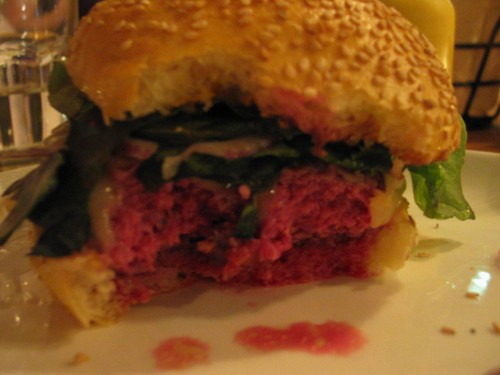 Amazingly, it had this perfect pink complexion, and yet the consistency was of firm cooked meat. There was nothing raw about the rare part. My hat's off to the grill man. He nailed it. The flavor was so rich, intense, beefy. As it says on the menu, they use grass fed beef and I feel like you really could taste how beef – fed on what bovines have evolved to eat and digest – should taste. My burger was well complimented by the lettuce tomato and cheddar cheese, although next time I hit this place I might just go plain burger and let the beef do the talking. The bun had a nice airy consistency which did a fair amount to soak up the juice of the meat.
Now some words must be said for dessert. I have to second JG's comment about the donuts. They were ridiculously good. But then when is deep fried sugary dough still warm from the fryer not one of the best things on earth?
Alright so here's how we rated the Back Forty Burger :
JG: 7
CT: 8.5
(bear in mind this was our first stop, and judging the first is always difficult because you don't yet have anything to compare, so while this might have been the best burger ever, I have to leave room for improvement)
2.) The 67 Burger – #6 on the TONY List.
Here's s video preview of our evening at 67 Burger:
67 Burger was the only place on the TONY list representing Brooklyn and as such, it had a low key, casual hipness that I can appreciate. It felt more cafeteria than restaurant, albeit a cafeteria specializing in one thing: big-ass burgers. It's the type of place where you order at the counter and as you walk back to your table, chocolate soda (yup, chocolate soda) you can watch the the 67 crew manning their stations assembling these these massive burger varieties. I say varieties because this place offers as JG so eloquently put it, "thousands if not millions of permutations" on the burger. It reminded me of Barney's Burgers, a well known establishment in the East Bay and San Francisco which also offers a plethora of burger choices. As JG put it, whereas the Back Forty was like being at a large hardware store and buying just the one all purpose hammer in stock, 67 Burger was akin to a hammer store that offers all sorts of different hammers for different hammering jobs. I think you get the point. There's lots of different types of burgers. JG got the classic cheddar cheeseburger while if I recall, Christine got a some sort of cheeseburger with mushrooms. Shef got the Parisienne burger which game with dijon mustard and sauteed mushrooms and extra parmesan cheese. I ordered the namesake 67 Burger which came with bleu cheese sauce or spread and loaded with bacon (because really, why not have fatty pork too).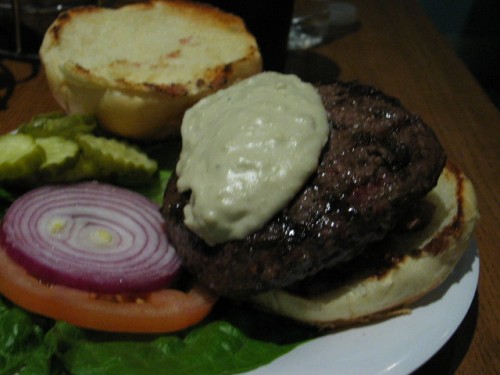 Alright, let's cut to the chase. These were good, solid, meaty, sloppy, juicy burgers. There was nothing delicate or refined about them at all. We basically had to dislocate out jaws to take a bite. Ok let's talk about the meat. Again, I ordered medium rare and it came out nice and pink. But it lacked that miraculous firm consistency of the Back Forty burger patty had. The meat was flavorful but not super intense. Or perhaps, the beef was overshadowed by the strong flavors of the bleu cheese and thick plentiful bacon. Actually, I felt like the patty itself was over salted – and I love salt. I tasted Shef's Parisienne burger and I found it equally salty. Perhaps it was just a case of overzealous seasoning on the part of the griller. Ok, so it was a little salty, but all in all it was a really good burger. As far as huge burgers with limitless options in style and toppings go, 67 burger did the job. Whereas with the Back Forty, the meat is obviously the star, with the 67 Burger, while the meat is still center stage, you have to give credit to the large supporting cast. It's more of an ensemble piece.
Here are our ratings of the 67 Burger:
JG: 6.5
CT: 7
3.) Royale – NOT actually on the TONY List
Here's the video summary:
Alright Royale is the first detour on the TONY List and I'm glad to say it was worth the trip. I'm not going to say too much more about this one because I feel like it was pretty well summed up in the video. What I did appreciate about this burger especially coming after 67 Burger was its simplicity. Royale is first and foremost a bar aand it's menu reflects that.
It's nice to not be overwhelmed with choice because you know if they do a few things they're going to do them well. I got a bacon chedder cheeseburger and it was high quality burger. The ingredients were good and all aspects came together well as a unit. It definitely hit the burger spot. But to reiterate what I said in the video, compared to the other two burgers, it didn't rate as high in my book. And I think a large part of that had to do with the meat. Again I ordered medium rare and this time the burger came cooked medium or perhaps just a little bit more. And as a result, the meat had less juice and flavor. It could have been an off night for the cook, but again this is all I have to go on.
JG ordered his medium and that's what he got. As he said in the video, the Royale Burger is his top pick of the burger thus far because it's a simple and tasty burger. While it might lack the grass fed or excessive toppings of the other two burgers, the Royale burger is a simple, but solid and tasty burger.
Our ratings for the Royale Burger:
JG: 7.5
CT: 6